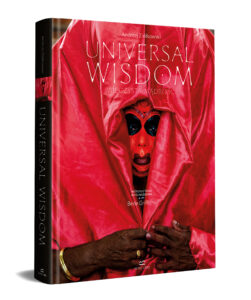 Andrzej Ziółkowski
Universal Wisdom
The album Universal Wisdom is a collection of extraordinary photographs showing the followers of seven world religions in Southeast Asia. Places of worship, multicoloured rituals, faces, and gestures of the believers became Andrzej Ziółkowski's photographic commentary on the holy books of these religions. Excerpts from the Hindu Upanishads, Buddhist sutras, mysterious Tao Te Ching of Taoism, surahs of the Quran and mystical poetry of Sufis, hymns of the Sikh Guru Granth Sahib, Jewish wisdom books or parables of the New Testament accompany the photographs and form the second theme of the album. These texts, being the revelations of divine wisdom and the insights of the human spirit into it, are meant to remind us of the essential unity underlying them all.
Universal Wisdom continues the photographic journey begun with the album The Inward Moment. The Human Being and the Sacred to the fascinating world of religions, showing its richness, offering an encounter with the people of faith and the eternal wisdom of the holy scriptures.
The album Universal Wisdom is published in English-Polish bilingual version, in the same graphic form and with the same printing care as its predecessor. In this way the two books complement each other. The album is accompanied by the exhibitions "Universal Wisdom" and "Woman and the Sacred".